Winter Dock Sale 2019
Two days of sweet deals | Open to the public
Friday Jan 25th 9-4pm | Saturday Jan 26th 9-2pm
Pre-sale is over. See you at the sale!
WHEN
Friday, January 25, 9 a.m. to 4 p.m. &
Saturday, January 26, 9 a.m. to 2 p.m.

Pre-Sale open now through Wednesday, January 23 at noon. Pre-sale is over. See you at the sale!
WHERE
Tennessee Cheesecake
1420 Toshiba Drive, Suite B
Lebanon, TN 37087
Enter through Gate 1 off Toshiba Drive and proceed to designated parking area. If you enter through Gate 2 or 3, you will have a hard time finding us! The sale will take place inside our office area (follow the directional signs). Click here for a map.
ABOUT OUR SALE
This marks the eighth year that we have held our Winter Dock Sale. If you are new to our sale, this page offers information that will be helpful to you.
Tennessee Cheesecake is a wholesale dessert manufacturing facility. We sell our handmade desserts primarily to the restaurant industry and to foodservice distributors nationwide (read more about our family-owned business here). Our Dock Sale gives us the rare opportunity to invite the public into our facility to purchase our delicious desserts at wholesale prices. We always enjoy this chance to say hello to folks and share the joy of Tennessee Cheesecake!
HOW IT WORKS & WHAT TO EXPECT
This is a first-come, first-served event. It is busiest during the first half of the first day of the sale. If you come during this time, please plan to spend a little time with us as we work through serving each customer in line.
When you get in line, you will have a menu of items to choose from. Please decide which items you would like to purchase, as well as the quantities of each, by the time you get to the checkout counter. As you move through the line, you will pass by tables stocked with "Grab & Go" items that you can pick up and take with you to the checkout counter. Once you get to the front, you will tell the cashier what items from the menu you'd like to order. They will then give you a total for any Grab & Go items you selected plus the menu items you ordered. Someone from our team will pick your order, and bring it out from the back for you. We will also be glad to help you to your car!
PRE-SALE
Customers will have an opportunity to purchase a limited selection of items ahead of time through our online Pre-Sale store. The Pre-Sale will close on Wednesday, January 23, at noon. Upon checkout, Pre-Sale customers will be given the choice between picking their order up during our Dock Sale, or having us ship the order to you (shipping charges apply; please see note below under Restrictions section about which Pre-Sale orders qualify for the giveaway item). We will have a dedicated line just for Pre-Sale customers to pick up their Pre-Sale orders at our Dock Sale.
SPECIALS & FUN STUFF
Dock Sale customers who spend $100 or more with us at the sale will receive a 5 free pie tarts, while supplies last; limit one per customer. We will also have our freshly baked chocolate chip toffee cookies for you to munch on while you're with us (free)!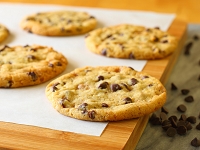 Chocolate Chip Cookies
3" Pie Tart Basket
RESTRICTIONS / GUIDELINES
Two days only.
First come, first served.
No limit to purchase quantity and while supplies last.
Pre-Sale customers who spend more than $100 will be eligible for the freebie ONLY if they choose to pick up their order at the sale. We cannot include the freebie in Pre-Sale orders being shipped.
Accepted forms of payment: cash or major credits card only. NO CHECKS.
Coupons, gift certificates, promotions, discounts, or wholesale account pricing does not apply.
ITEMS AVAILABLE
As always, we will have a variety of cheesecakes, pies, and other desserts for you to choose from, while supplies last. We will not publish a list of the items ahead of time. Prices / item categories listed below (sales tax will be added to these prices at checkout).
2lb Cheesecakes: $12 each or 2 for $20
Southern-inspired Pies: $12 each or 2 for $20
3lb Cheesecakes: $18 each or 2 for $30
5lb Cheesecakes: $25 each or 2 for $40
QUESTIONS
The best way to reach us is by email (customerservice@tncheesecake.com), or on Facebook (www.Facebook.com/TennesseeCheesecake). You may also call us at 615-773-6181. Due to the volume of calls we receive the day before and the day of our sale, we are unable to answer or return all calls during this time.